Now available on iTunes!

ALSO IN RELEASE!
NEW FULLY FEATURED DVD of the Award Winning Feature Documentary
93 min. with Full Chapter Menus
Closed Captions for the hearing impaired and a Spanish Subtitles Option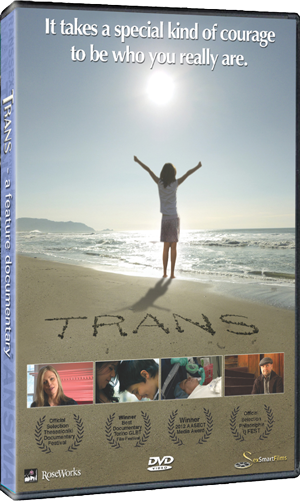 BUY YOUR DVD TODAY!
IN the USA
FOR PRIVATE HOME VIEWING
Just $29.90

($24.95 plus $4.95 domestic shipping & handling).
OUTSIDE the USA
FOR PRIVATE HOME VIEWING
Just $39.90

 ($49.95 plus $14.95 int'l shipping & handling).
(NTSC only)
SPECIAL EXHIBITION
FOR PUBLIC SHOWINGS EXCLUDING FILM FESTIVALS and PROFESSIONAL & EDUCATIONAL USE
$125
(Includes shipping and handling)
Complete with a "Certificate of Exhibition" and the right to show TRANS publicly before a paid or unpaid audience for one year or to show to clients and students in perpetuity.
WARNING: Copyright violations are strictly enforced. NOT FOR FESTIVAL USE! All Festival arrangements must be made through The Film Collaborative.
Alternatively, you may send a check made out to:
SexSmartFilms, LLC
Send to: TRANS, 244 South Main Street, New Hope, PA 18938
Be sure to include your shipping address, phone and email with the order.